Alright, last time we talked about subtle LOTR bridesmaids dresses for your girls. These are dresses that are perfectly modern and unassuming, but add it into your Lord of the Rings wedding and BAM, you've got dresses that fit the theme and that can be worn again by your girls to places other than a Renaissance Faire!
Today we're going to look at more heavily themed dresses, but first we're going to go over themed bridesmaids dresses that actual LOTR weddings have had that we've featured here on BreeCraft. Here we go!
OK, up first is one of my favorite weddings, Bobby and Heather's! They really went all out with the theme and it's gorgeous. Of course the girl's dresses matched, look at these beautiful white and deep red flowing gowns! They are from Camelot Costumes on Etsy.
And hoods!
OK, this next wedding is all in Norwegian, so I really can't be sure who is an actual bridesmaid, but that's OK because it looks like every guest dressed up, so everyone looks great!
While not a bridesmaid (or a real wedding even!) this Shire styled photo shoot has THE cutest flower girls and it's a great inspiration point.
And finally, the first wedding we ever featured here, Karen and David's! I really like the dresses in this wedding
They matched the guys for color too
So maybe you want your girls in a dress that just screams Middle-Earth? I've gone around and tried to find dresses that are sort of not terribly expensive but still fit the theme! Keep in mind though that many of these dresses are made to order and will probably cost more than an average bridesmaid dress, most are around $150-$200. Also, almost all are Elven inspired, because that's pretty much what every woman wore in LOTR, so take that as it is.
OK, here are a few from the same Etsy store Bobby and Heather's are from, Camalot Costumes.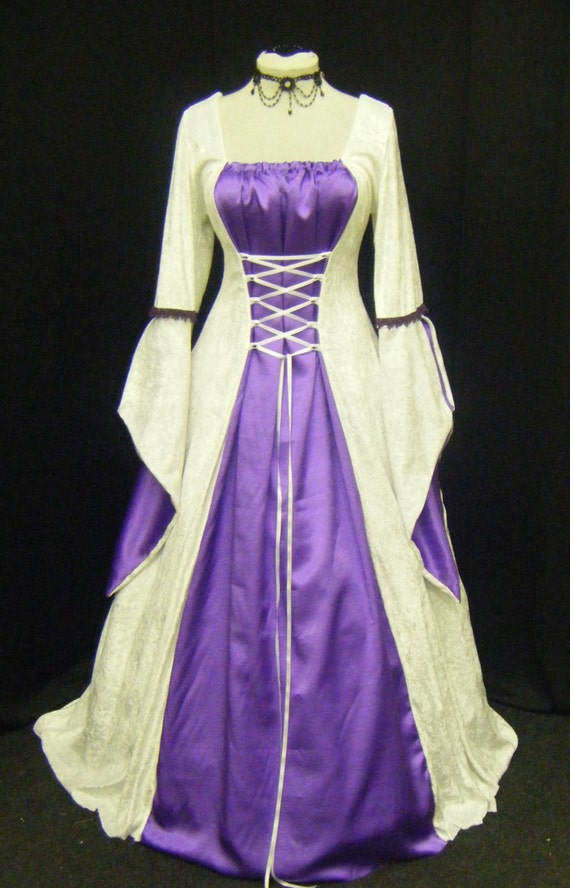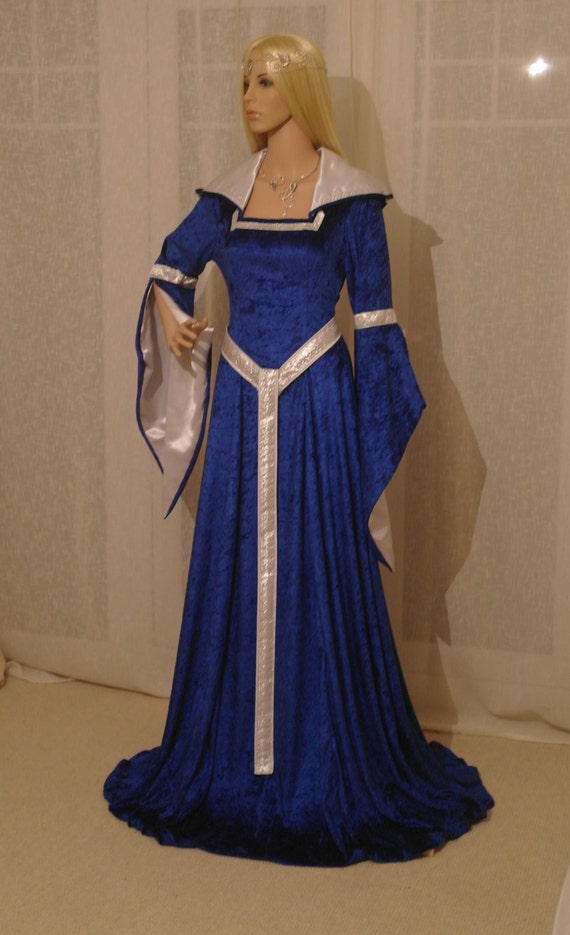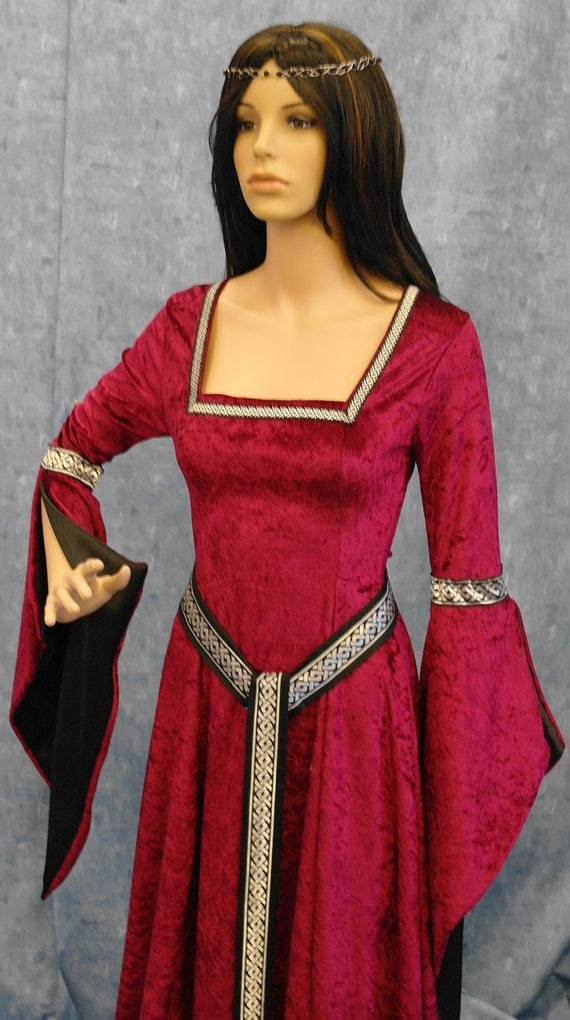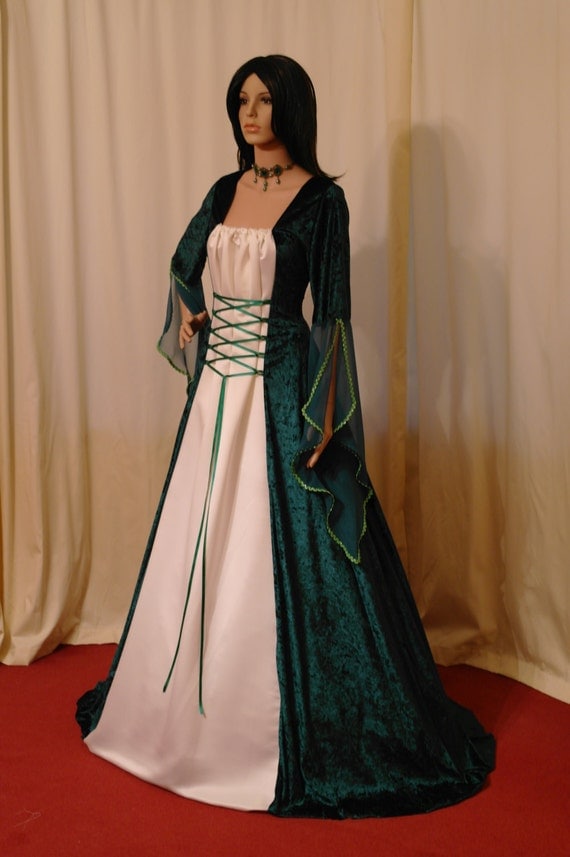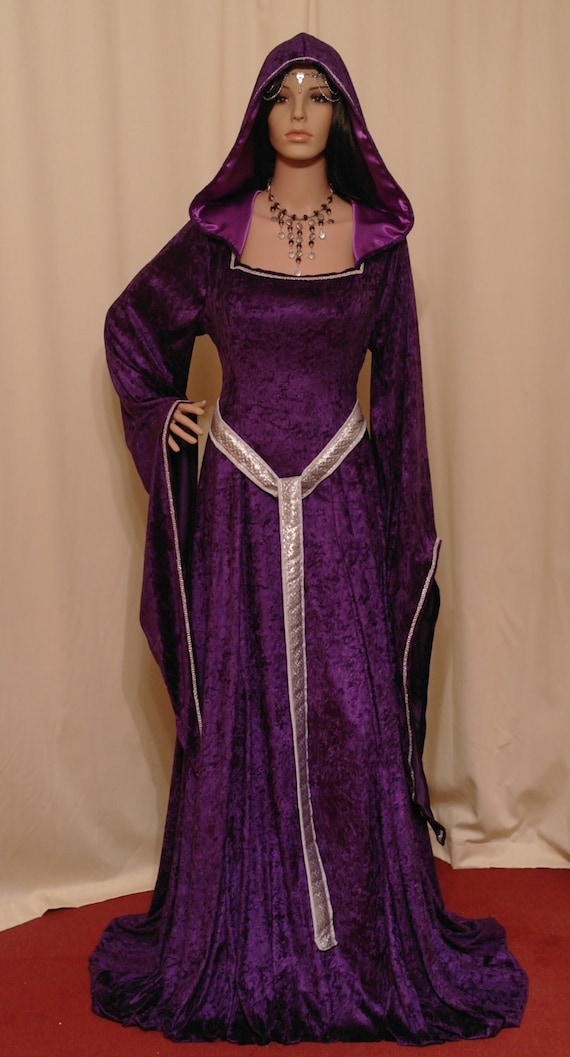 They've got a wide variety of colors and a few different styles in the $150-200 price rage!
There's also this Etsy store, The Dark Angel Designs Co, that has a few different versions of an elveny gown.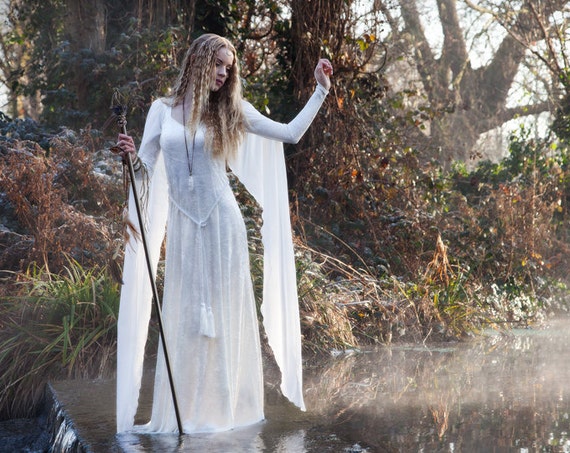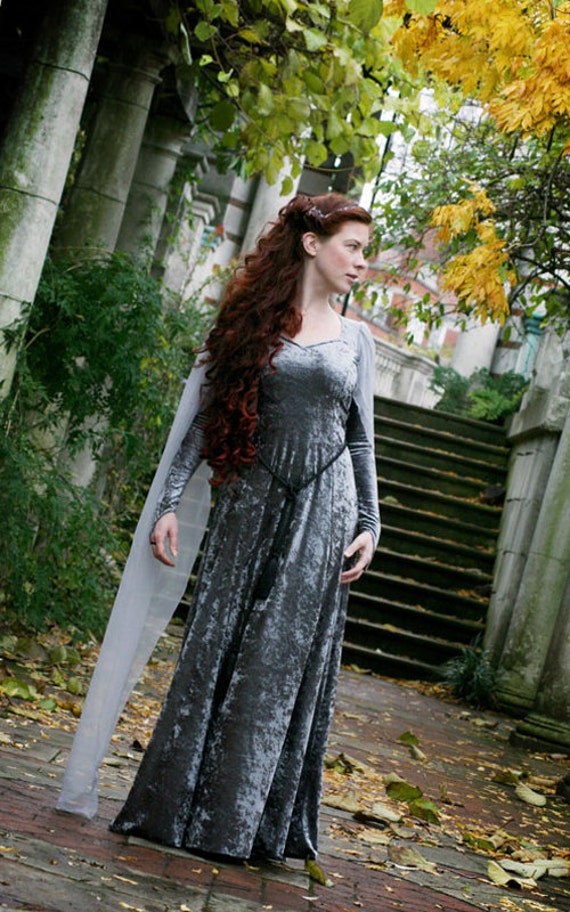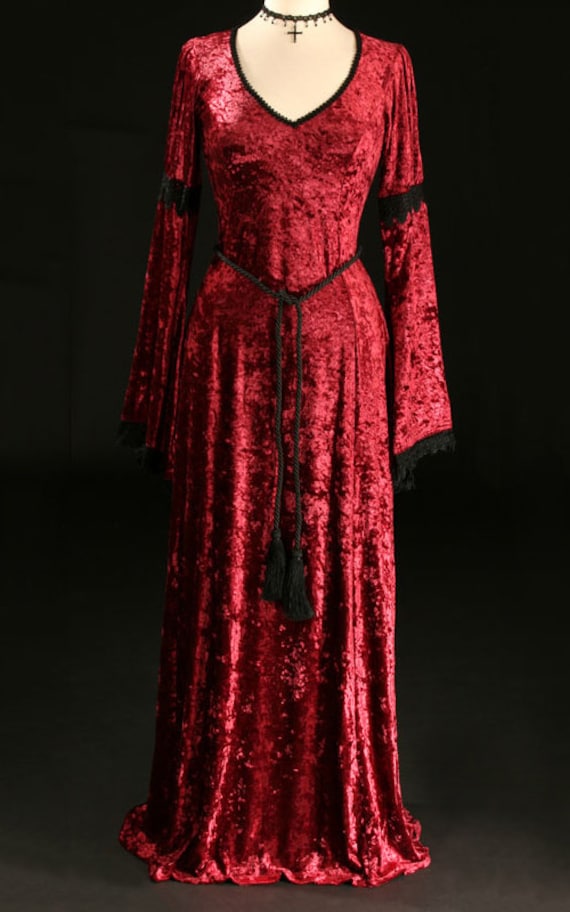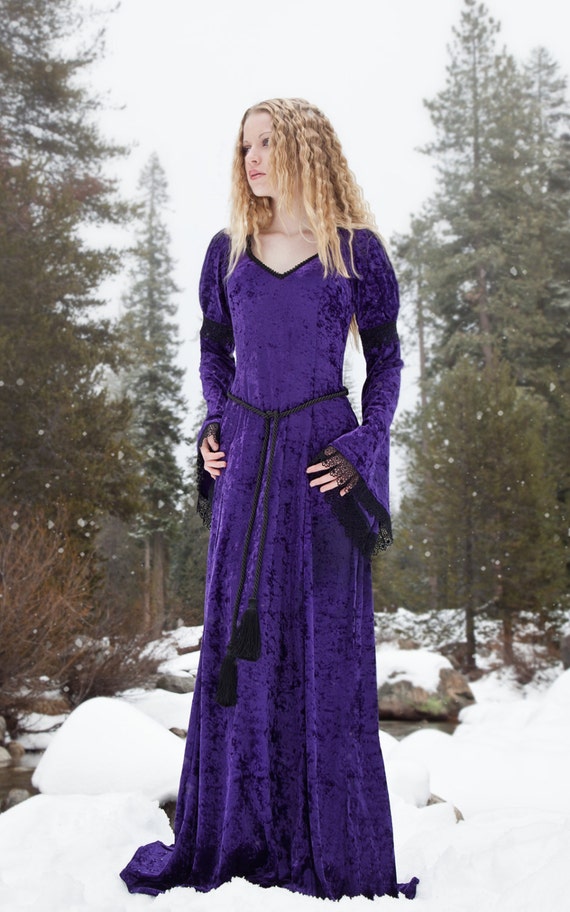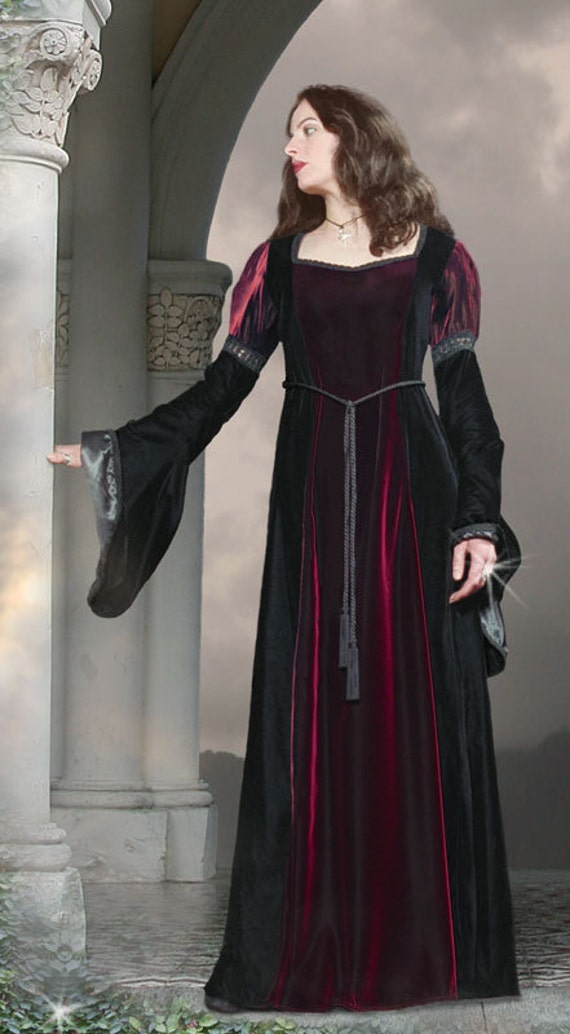 Hope you're a fan of crushed velvet, that seems to be the fabric of choice for elven styled gowns for like literally every-HOLD THE PHONE
Here's a cotton one! From YourDressmaker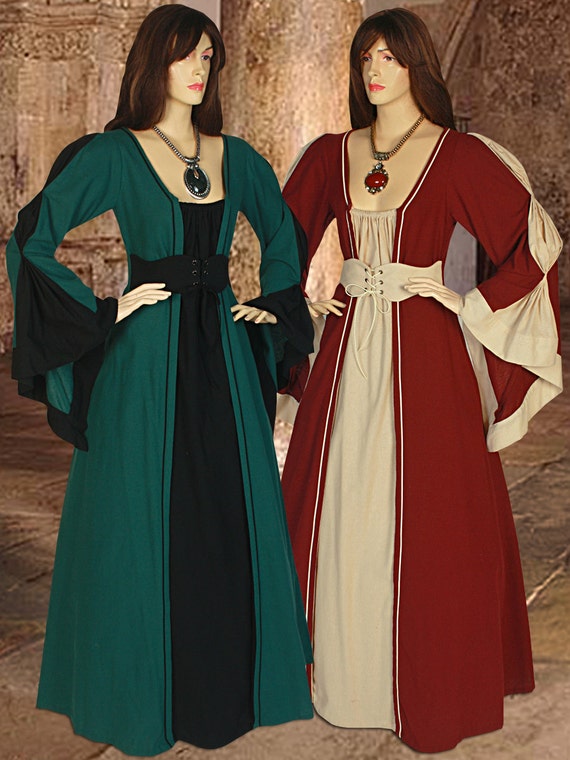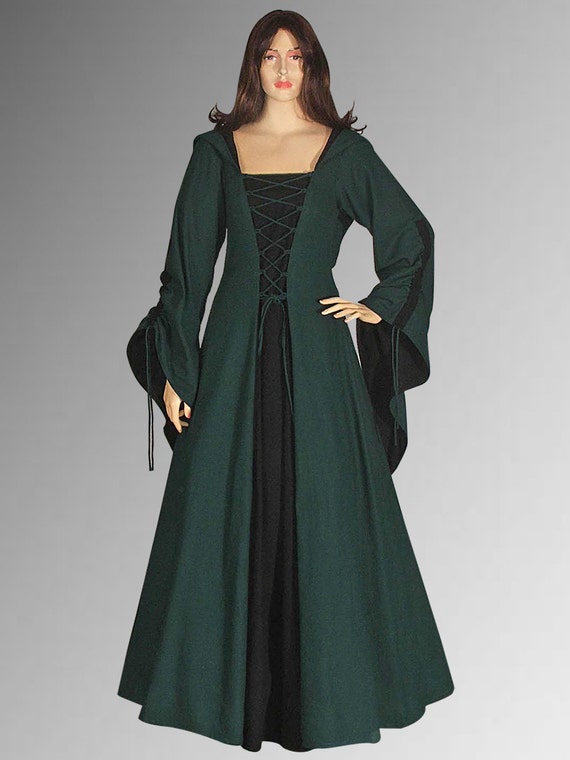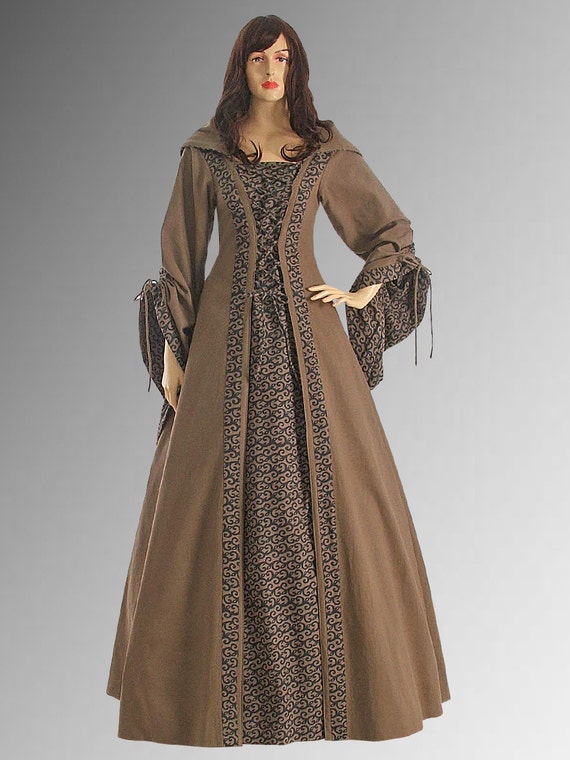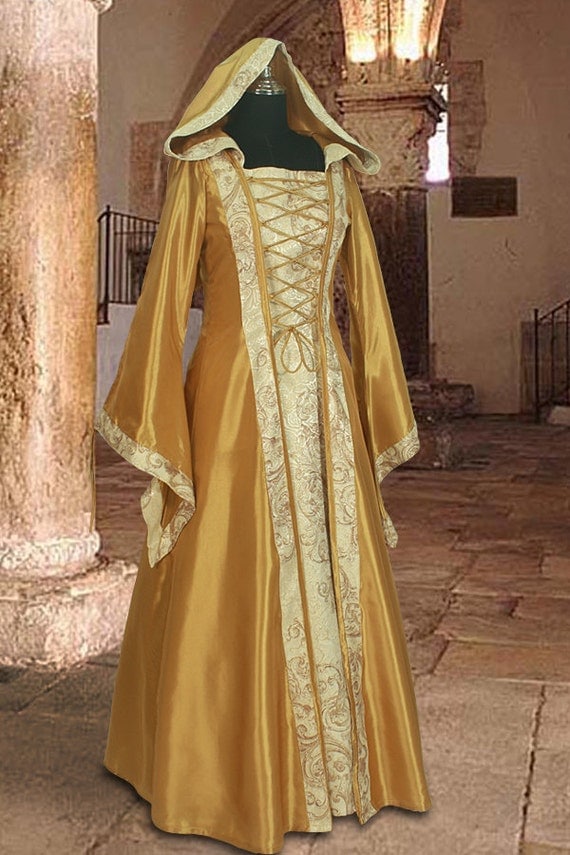 Alright, these are all starting to look kinda the same. They all look awesome, but kinda the same. What if you wanted something more along the lines of Karen and David's wedding, something a little less "BAM in yo' face look at my hanging sleeves!"? Here are a few dresses from The Pyramid Collection that I really like! These are also cheaper, running under about $100 for each. Truth: they may be a little less grandiose, but they still have that LOTR feel.
Please be aware that The Pyramid Collection changed their stock a lot and many of their pieces may not be available in every size all the time. That being said, I kind of want all of the dresses they offer. It's exactly what I want to look like when I'm a crazy old witch cat lady. Not that I think only crazy old witch cat ladies can wear their stuff, because I want to wear it all now and I'm not old,  a witch, nor do I have any cats, sadly. But, if there's any crazy old witch cat ladies out there, they wear this stuff, and that's pretty cool.
Alright then. That's all I've got. I know, a lot of them look the same, but honestly that's all I could find on a budget of under $200. Remember, most of the time, the bridesmaids buy their own dress and if it's going to be something themed like these, they may only be wearing it once in their whole life, not everyone can be awesome and go to faire all the time. Definitely make sure your girls are comfortable wearing something like this too. You may also need to purchase chemises for under dresses, corsets for over the dress, or additional pieces to complete the look, so keep that in mind when shopping. Also, it may be tempting to buy cheap Halloween costumes, but that's what they'll look like in photos, so…stay away, trust me.
Whatever you decide though, modern or themed, always keep in mind that while you may have a vision, not everyone is comfortable in any dress and always be sure to try to include the wearer's input when making final decisions! You'll have a beautiful wedding no matter what anyone wears!