That may sound really weird. Remember, I'm making my bouquets myself, for my bridesmaids and my own. I'm making the flowers out of coffee filters and the 'base' is made out of sword hilts.
I have all of my bridesmaid's swords, two of which will look like the sword hilt pictured above, and 3 of them are Sting.
And my maid of honor will have her own special sword hilt that I haven't gotten yet. That just leaves my sword!
I've gone round and round on what sword I want to carry. I finally decided that, of course, I need to have either Narsil or Anduril. Then it came to actually buying one. They are rather expensive (starting around at least $100 on ebay, and go for much more) and then also, I'll have to cut the blade off. I don't want to 'damage' a great sword I spent probably more than $100 on. Also, I just can't bring myself to cutting that sword. I don't have a problem cutting the others I've bought because they are very cheap China made crap. The level of detail in a Narsil or Anduril is much higher, and I just feel bad about it. I even found this sword, which is actually made of foam.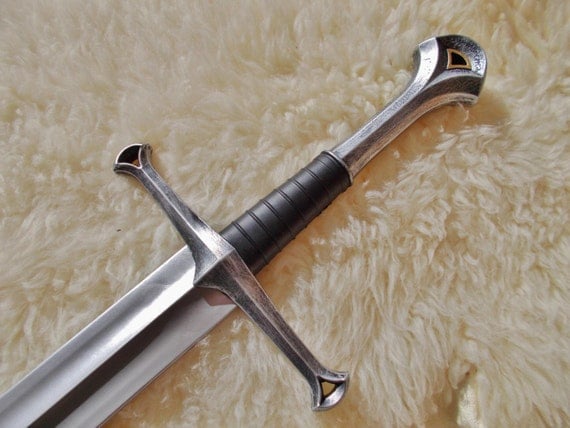 This is made by an Etsy company TrollMartelletCorp and it's used for LARPing. I even emailed them, asking if they could make me one with the blade cut off, so I wouldn't have to do it (and maybe it'd be cheaper) but alas, it would not be cheaper, and it would be kind of hard for them. It's $80, and…it's a contender. I think even the hilt is foam. It looks great, right? Would you believe that's made of foam? Detailed.
But, I decided to shop around still. I went back to the website I bought my other words for my bridesmaids from, Defender Knives. I bought Sting from there (though it was called like  'short vine sword') and I found this sword, called King's Battle Sword (OK, sure).
Ah! It's clearly based off of Narsil/Anduril. It's different, to be sure, but it's big, which is what I like. It states that the hilt is 12 inches long. I also kind of like the little swirly bit on the hilt. It's like…dainty Narsil. It's also around $30, so I bought it. I'm really happy with it, and I just hope I like it in person. I do expect the seals to be weak, with metal spurs that I'll need to sand down, and the hilt may even be loose (as 2 of my swords I ordered for my 'maids have been, which I easily fixed) but most importantly, it's cheap, I know it's cheap, and therefore I'll have no issues cutting it up! But, it still helps represent my love for Lord of the Rings and it means a lot to me. It's unique, but still iconic and instantly recognizable (by awesome people).
So, I bought my wedding sword! Now, I just need to actually make the bouquet. This past week has been very fruitful for wedding details; I finished my cloak which will serve as my veil, I ordered my sword for my bouquet, I'm going bridesmaid dress shopping this Wednesday, I've had my wedding dress mailed to my home in Texas, and I've almost narrowed down a hotel for my out of town guests. All in a week! That's more than I've done in the past 3 months combined.
In celebration of my wedding success, here are some adorable gifs of our favorite couples.
Yay
OK, thanks for reading guys!