FRIENDS.
So, I bought my dress, right? We've already gone over this. Well, once upon a time, I lived in a small town in Kansas while I was in college. A good friend of mine got engaged and I was a bridesmaid. I bought my bridesmaids dress at David's Bridal and registered there with my address in that town. Years later after I had moved, I found my own wedding dress at David's, and once it was ordered to the store, I called them and gave them my parent's address in Texas, as we bought the dress in Texas and my mom insisted we have it sent there, instead of the town I now live in, in Kansas.
My mom texted me non stop for days, asking when it was suppose to arrive, as the David's we bought it at was like an hour from our home in Texas. I assured her it would be soon. Well, it never came, so I called, and called, and everyone said it was delivered, but there's no dress! Finally, they gave me a tracking number (which is something I'd expect to get at the beginning, but nope. Also, maybe they should require a signature for something as expensive as a wedding dress, am I right?!) and that's when I realized the dress had been delivered to…
My old old old apartment address that I hadn't lived at in years, because it was still on file at Davids from when I bought the bridesmaid dress!
Well of course David's apologized and is ordering me a new one, they took care of everything, which was nice. So, I should have a wedding dress on its way to the Davids Bridal in Texas, at which point it will be mailed to my parent's house in Texas, hopefully.
Now, I need a veil. I have talked non stop about how I want a cloak for a veil. I just like the idea. But, I want it to be sheer, like organza or chiffon or something, you know? I scoured the internet, but to be honest, I couldn't find anything that I LOVED and that was in my budget. I found one, but it was like $800, no joke, so, no.
Well, the other day, I happened upon this cloak from Alberta Ferretti's 2015 bridal collection.
Loooove. There's only one teensy weensy problem – it doesn't have a hood. Is this possibly more of a cape than a cloak? OK FINE. But I still really like it.
It also has slits on the side for your arms to go through. Not like sleeves, just slits, as some cloaks (and capes) tend to have. I'm not a fan of these, and I may either sew them closed or live with them if they aren't too noticeable.
But, readers, I went and bought it today!! I've been contemplating getting this for quite a few days. I weighed my options, which at this point I was almost resigned to make my own cloak, but I just loved the lace flowers so much, and I knew I'd never be able to make anything like this. Look at the delicate little flowers! My wedding dress, while it has a lot of lace, only has a few beaded flowers along the bust, and I dearly love lace flower appliques. It's so pretty!
I am a tad bummed about the no hood thing. I may make one out of tulle and…try to match it to the cape? I really don't know what a plane tulle hood with this beautiful cape will look like though. I also may just live with it.
So, after finally deciding to buy it, I then had to decide on which color to get it in. It comes in white, ivory, and champagne. So, those may sound so freaking similar it doesn't even matter, but I literally spent 5 hours contemplating what color to get. Let me just tell you what went through my head
"Well, my dress is ivory, so I should get that. But maybe the white would be best, because what if it looks old or dirty compared to my dress? Or, what if my dress looks old compared to the cape?! Maybe I can dye it a darker shade if the white is too bright? But I can't lighten the color if the ivory is too dark! What does champagne mean?! If it's so sheer, will the champagne look more like ivory, and ivory more like white then? Ohmyfreakinggodjustpickadamncolor!"
So I picked ivory. And, I now have an idea to do a post about the exact differences between white, ivory, and champagne, because holy shit, that was stressful.
Happy day! Now, we wait.
I'm totally over waiting, I need it now. Guys, this is my first big wedding purchase that I will actually get soon! Sure, we booked a venue, a photographer, the cake, DJ, I've practically made all of the paper goods, and I bought a dress, but I won't 'have' those things till the day of the wedding. My beautiful cloakcape (that's it's name) will be here in like 2 weeks! EEEE!
Now, the cloakcape ties at the neck with white string. I plan to replace this with a pretty metal clasp like this
Or this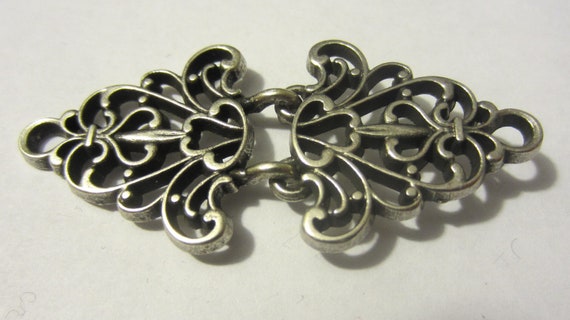 Or thiiiis
(Bet'ya didn't see that coming, amiright?!)
OK, but no, I do need a clasp, and I'm excited to start shopping around and to get my cloakcape in! Thanks for reading guys!