OK, so forgive me if I'm wrong, but isn't this suppose to be a wedding blog? You'd never know it, because it's been like 242 years since I talked about anything wedding related. Let's get back on track.
So, a few weeks ago, we did a few posts on Lord of the Rings wedding invitations. In one post, we looked at this one!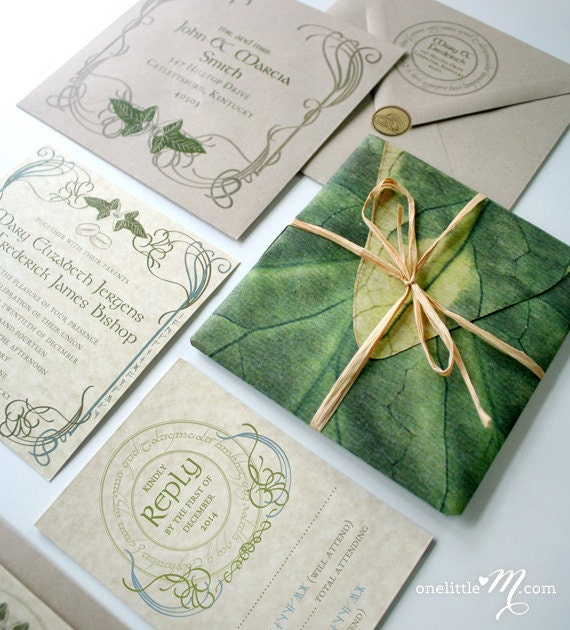 This is probably my favorite invite of all time. Made by One Little M, which sells on Etsy among other places, the creator does amazing themed invitations, go look at their Etsy shop!
They also sell samples of their invitations.
That being said, guess what I bought.
SHABLAM!
It caaaaame
I bought this off of their Etsy page, and because it is a sample, it is not custom made, meaning my own wedding details are not on it, it's just so you can see and admire their work in person. I freaking love it.
First, we have this brown paper envelope with a lovely addressed sticker. Inside was this
The Mallorn leaf is probably my favorite part. I've got no idea what it's made out of, but it's very detailed. It's not quite paper, or if it is, it's been treated with something like a very thin laminate because, while I've not tested this theory, I don't think it will tear quite like paper. It feels like a very thin plastic? I feel so dumb for not knowing what exactly it is, but it's not just thick paper. There's also a faint texture on it akin to an actual leaf. This is high quality stuff here guys. As pictured in the actual Etsy listing, it did come with a little straw bow tied around it, but I promptly lost that in my excitement. It was a nice touch though.
Let's open it! Squee with me now
Squeee! it holds all of the wedding invite goodies, such as the formal invitation, an RSVP card, and a map!
The invite and the map card are made from the same paper, which is thick and has a printed pattern to make it look cloudy almost. The printed wording on it has a slight sheen to it, but is not raised. They are both one sided.
Next, the RSVP card
This is double sided and is very thick. It's actually meant to be a post card, and does not come with an envelope for the guests to mail it back in. However, there is a spot for a stamp and the paper is really thick, so it will hold up in the mail.
While the paper thickness is different than from the other 2 cards, the paper pattern is the same,  with the cloudy print. The ink is also the same, giving the text and printed work a slight sheen in certain light.
It's freaking brilliant. I'm not getting these for a few reasons (mostly because I've bloodied my fingers designing my own invitations) but I'm so glad I got a sample, if only to be like "Look at this thing!" when we have guests over. I love the leaf so much that I want to do something with it, like…frame it? Or have guests sign it? Or maybe like distress it slightly, make a cool old identification tag,  frame it, and be like "Oh this? It's been passed down for centuries in my family, something to do with Middle-World or whatever it's called". Bahaha
But seriously. It's got creases in it from where it was folded, and I don't want those. I'm hesitant to ask the seller for just a leaf because they state clearly that the leafs are not sold separately. Maybe just 1 though? Pwease?
Whatever the case, I now own this awesome invite and maybe you should too. They are a little pricy, but the quality is amazing, and they're beautiful, so the price is well worth it. I highly recommend them, and let's be real here, you seriously need these for your wedding. Buy them readers, and let me live vicariously through you!
Thanks for reading!