We seem to be stuck on a theme here at BreeCraft, which is invitations and paper goods. I'm a super DIY fan, I'm making the invitations, save the dates, programs, center pieces, and probably my veil. I'm all for making your own things or putting your own special twist on stuff!
So, it probably comes as no surprise that today we'll be looking at an amazing tutorial on how to make your own Hobbit styled invitation! It was all put together by Marie, who lays out step by step instructions that are easy to follow. She's also included free downloadable templates to use! Let's get started!
---
Image credits: The invitation and card tutorial photos on this page all belong to the author of the tutorial, Marie Williams Johnstone. The original post can be found here.

Step 1) Print out Your Free Hobbit Invites
To make this Hobbit invitation for the tutorial, you will need to print out both of the free templates that are provided for you (they are located at the bottom of this post). You could just print out the first printable invite which contains the invitation wording, write on your party details and pop it into an envelope. For a little extra effort, you can also print out both parts to make a special party or celebration invite that really looks like it is straight from Middle-Earth itself.
I suggest printing 2 invites onto a standard sheet of pale colored cardstock. This makes a good size for invites and allows just enough room to write in your event details for your birthday, wedding or other celebration. If you find that there isn't enough room to write all your party instructions, you can add more details onto the back of the invites.
Step 2) Cutting and Scoring Your Invitations
Cut out all your invites around the black lines. They are easy enough to cut with scissors, or you may prefer to cut with a craft paper trimmer which really gives you nice straight lines. This project looks best with the black lines around the invites left in place after you've cut them down. But you can decide how you prefer them to look.
There are two parts to your handmade Hobbit invitation. The back part is the piece with the wording on and this just needs to be cut out. The second or front part is the one with the green circular frame. This needs to be folded in 2 places. Along each vertical side edge is a black line just a short way in from the edge of the card, you need to fold along these lines because that will give the invitation the opening effect it needs.
Step 3) Cutting the Front of Your Hobbit Invite
Once you have made the folds on just the front of your invitation as shown in the image, you need to cut down the middle of this piece to snip it in half. You will see a thin black line down the middle of the green circular frame, and this is where you need to cut.
I'd recommend using scissors for this part because it would be all too easy to go off the line if you use a guillotine or a craft trimmer. But it depends how confident you are with the cutting tool you're using. I love using scissors and tend to leave my trimmers for bigger projects that need trimming or for cutting perfect angles.
I hope you are finding this leaf or article to be useful because it has been written with care. If you love crafting, you could always add in some decorative stickers to the front part of the invitation.
Step 4) Sticking the Hobbit Invite Together
This part is pretty easy so long as you are careful to line things up. You'll see that the bottom part of the Hobbit invite has 2 white (or unprinted) strips at the edges – I hope you didn't cut these off because this is where you add the glue or adhesive so you can stick the top part into place!
Pop some glue onto the left white strip and carefully align and place your front left panel on top – you are only sticking down the small part that you have folded.
When that is stuck down, take your front right panel and align it up in the middle of the invite so the circular design matches up then glue down the right flap onto the matching white area of invitation below. If you did this right by following the text and the images then you will now have a folding out Hobbit themed invitation.
The finished design looks like it is straight out of a Lord of the Rings or Hobbit movie set. It features a green decorative circle border which looks like it could be part of the Bag End Hobbit door frame and this circles a beautiful and lush landscape that makes it look as though you are about to venture out from your little Hobbit home dwelling straight into Hobbiton and your adventure in Middle-Earth.
Pull back the Hobbit door for a matching design with all the details for your unique celebration. Are you hosting a birthday party, a special Tolkien event or a wedding even. I'd love to know what you use these invitations for. These are provided free for non-commercial use which covers normal birthday parties and personal celebrations. They are not for resale.
Click on the image of each design (opening into a new window or tab if you know how) to bring up a full sized version that you can save to your own computer. You'll then need to perform a right-click command on each design and choose 'save image' or 'save image as' to grab copies that you can save and print out at home.
---
And there you have it! I think they're awesome, and I love the green stained glass look the inside has. Marie has made an amazing tutorial! Head on over to her craft blog for more projects and templates!
Here's a pretty cool looking card made to look like the Gates of Moria made by Etsy artist LiselleMade.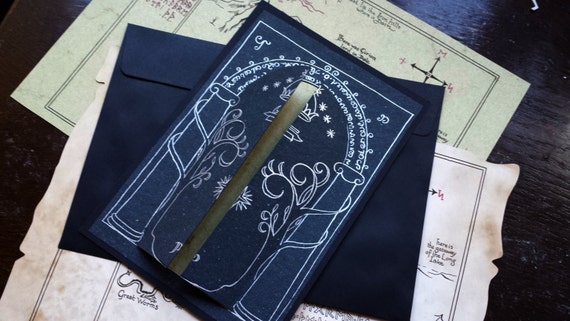 It looks like the same principal that Marie used could be applied to a card like this with some tweaking, if you decide to change it up a bit! Just remember what you have to say to get the gates to open.
Thanks for reading, and be sure to post in the comments if you make one of these!