Hello readers!  Over the past few days, I have scoured the internet to find the best invitations for your big day, which also have a Middle-Earth vibe. Some we have already featured here on BreeCraft, but for posterity's sake, we're including them in this post again. So, without any more filler text, I present to you The Complete Compendium of Lord of the Rings Wedding Invitations: Part One!
First up, this beauty!
The invitation (on the right) was made by a lovely Etsy wedding invitation and paper company called Willow and Sass. The designer states that the couple chose her hand drawn Cottage Grove invitation suite. The bride, Becky, also had a former student custom make the beautiful map in a Lord of the Rings style (on the left), complete with Elvish writing on the borders! Becky then wrapped the invitations in silver vellum and tied a dried fern around them with grey twine.
My favorite paper part about this wedding was their wedding programs though! Look at this! Becky made them modeled after the deed Bilbo signs in The Hobbit. I'm in love.
Check out Willow and Sass's blog for more photos of this beautiful Hobbit wedding, you won't be disappointed!
---
Up next, we have a very unique invitation that I believe was made by designer Paulina Ortega, who is based in Singapore. The couple has a great love for the outdoors, biking, and, of course, Lord of the Rings. Paulina very successfully incorporated all of these things into one amazing invite!
The invitation then folds out to reveal a map of Middle-Earth altered to include the couple's most memorable moments together.
The designer used Dwarvish runes and even created drawings of the bride and groom as elves. She also included iconic characters from The Lord of the Rings as a sticker set in the save the dates!
Finally, to literally seal the deal (hah), the look was completed using a custom made wax seal. Perfection.
---
Nextly is an invitation that a blogger received and just could not help but share it. And rightly so, because WOAH.
The bride and groom are huge book lovers, and, get this, the wedding was held in none other than Hobbiton, in New Zealand! WHAT.
Obviously, the wedding has already taken place, and I can't freaking find any pictures of it! The guest who posted these photos shared a blog from the bride, but sadly it's no longer working. However, she did state that the bride herself made these, and they're beautiful!
Oh my god, look at the RSVP card.
Bah! I love it.
---
Now it's time for one of my absolute favorites.
These wedding invitations and other paper goods were created by a UK company called Paper Pleasures. From the looks of it, they have created two different sets of Elvish invitations and seating charts, both equally gorgeous!
The tables are actually Middle-Earth place names, written in Elvish and English. Then, each table has a little Middle-Earth card!
Go to their blog and brows their other designs, because each one is spectacular. Really amazing graphic design going on here, guys, and I'm kind of super jealous.
---
OK, so our next invitations were made by Etsy seller SophiesLoveBirds. They actually have two different sets that are both chalked full of LOTR goodness.
First up is a digtal download of an invitation, RSVP card, and save the date. (A digital download means you will get files of the items, and you print them yourself, which can help save money)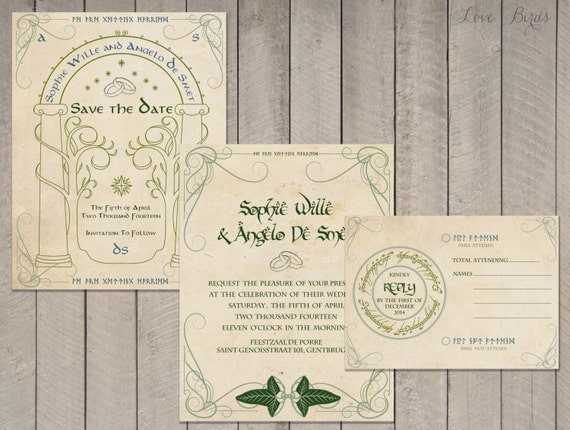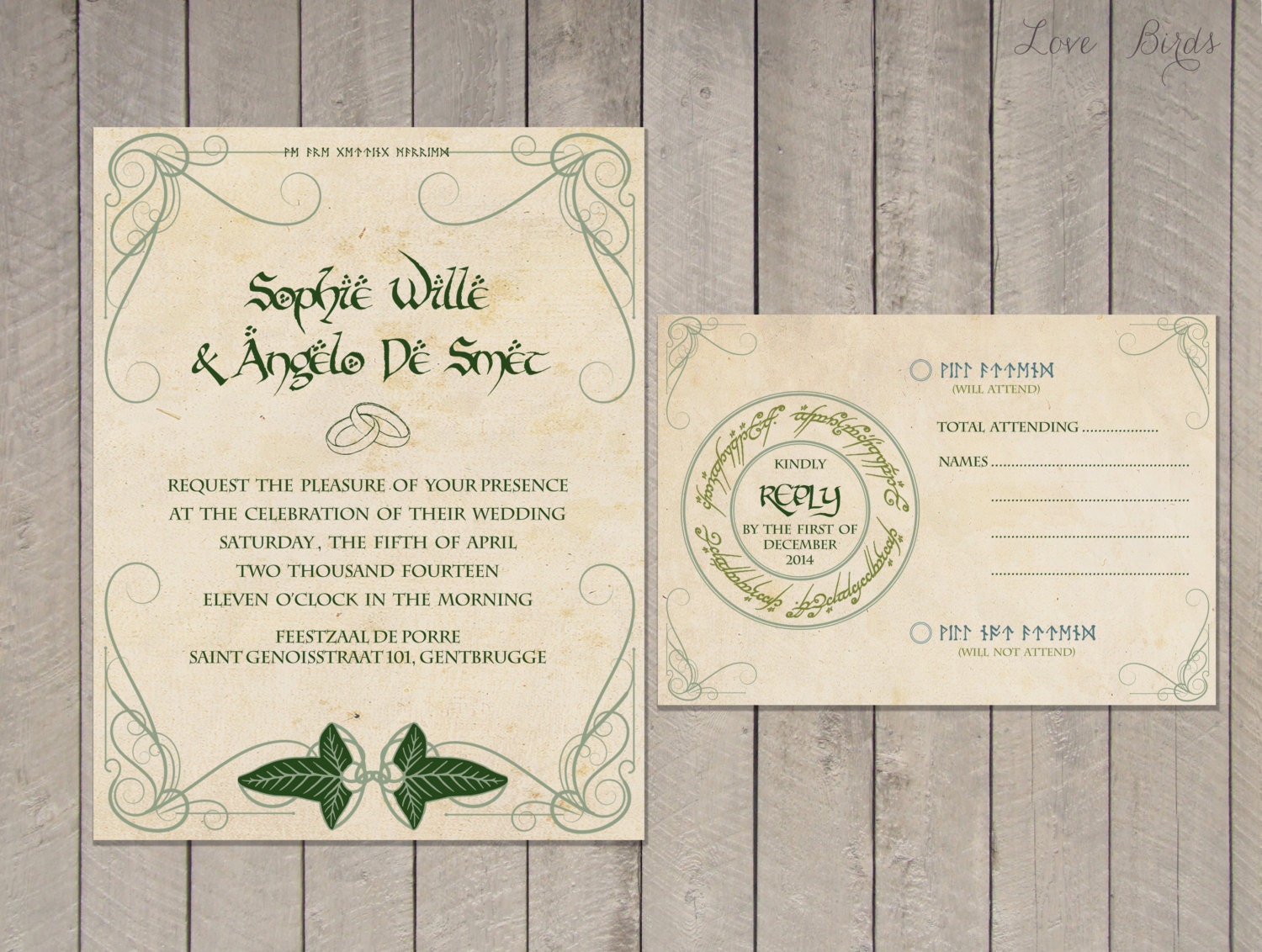 I love the scroll work on the actual invitation! I know you can't really see, but on the RSVP card, there are runes and in parenthesis, it 'translates' to (Will Attend) and (Will Not Attend) I like it!
Their other version includes the Fellowship.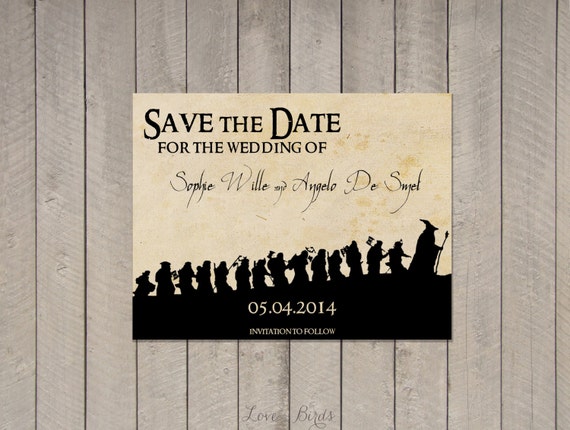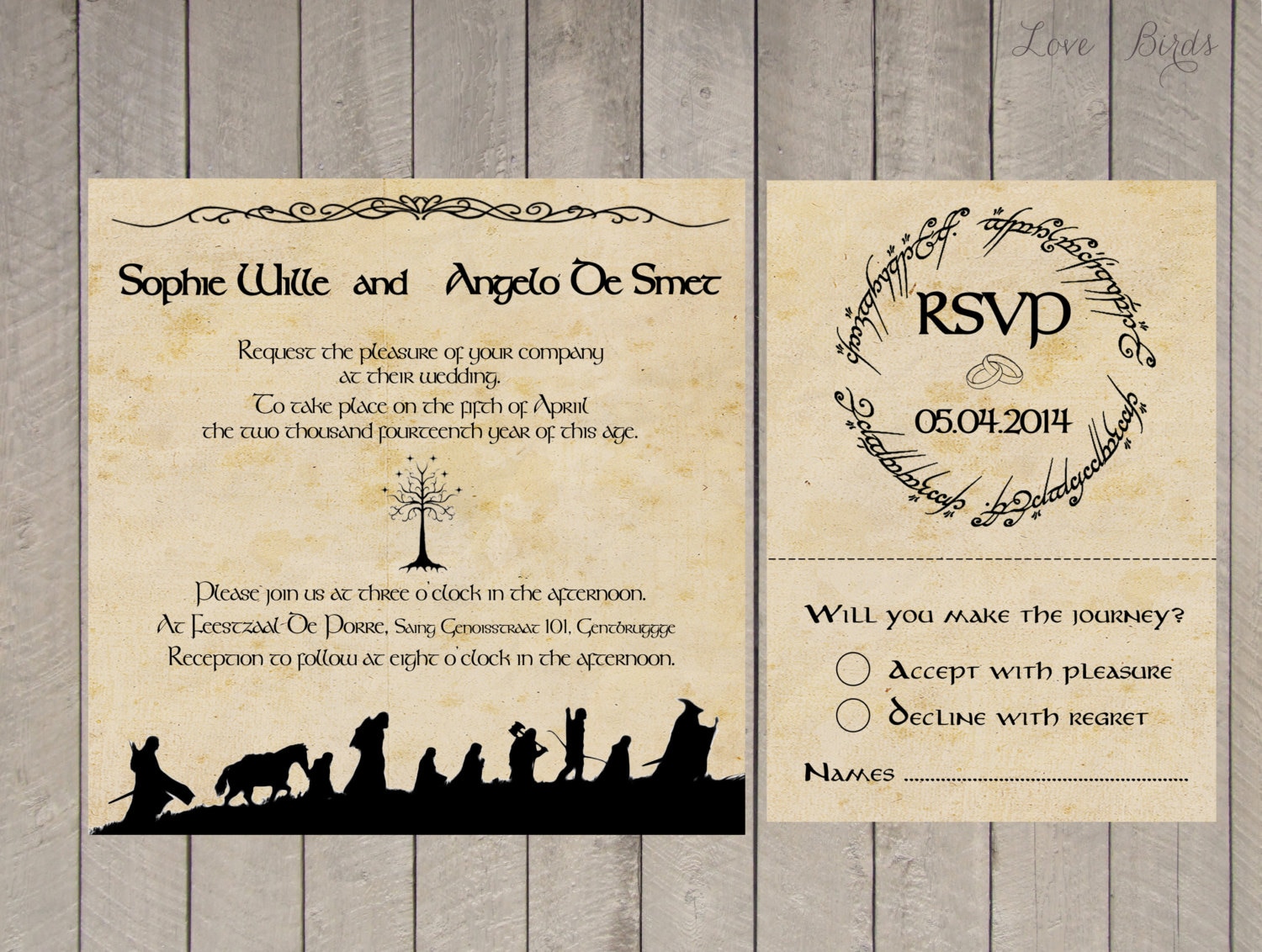 This is also a digital download, so do be prepared to print them yourself. I sometimes think this can give you more freedom on customizing envelopes and stuff, you know? Pretty!
---
Our next Etsy seller has a wide vary of different digital download Lord of the Rings themed wedding goods and stationary extras. As always, these can all be customized for different events, and the seller, StoryTimeStationary, encourages you to contact them about designing the perfect item for you.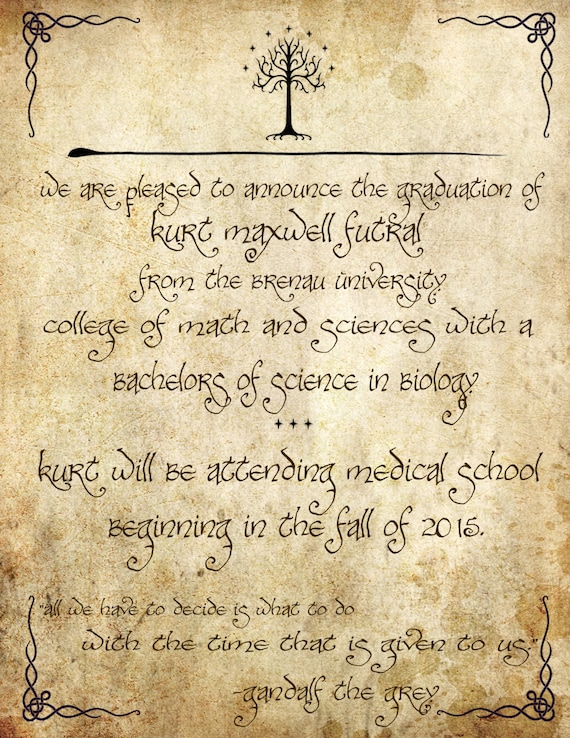 While this is actually a graduation announcement (which is awesome) it can easily be changed to work for your big day. Here's the same design for a birthday card or announcement.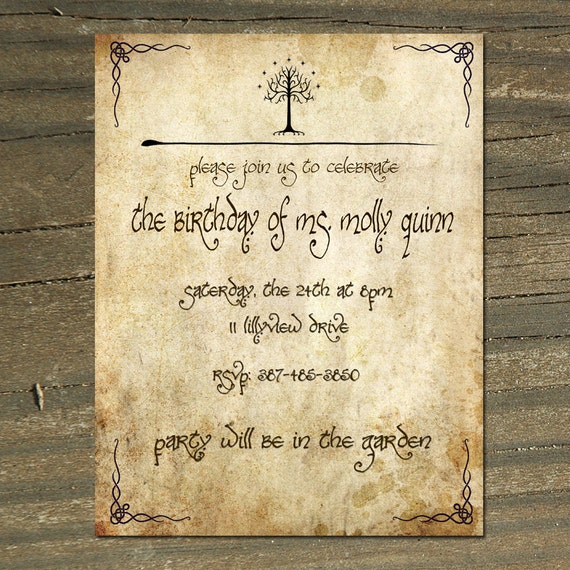 Here's a pretty save the date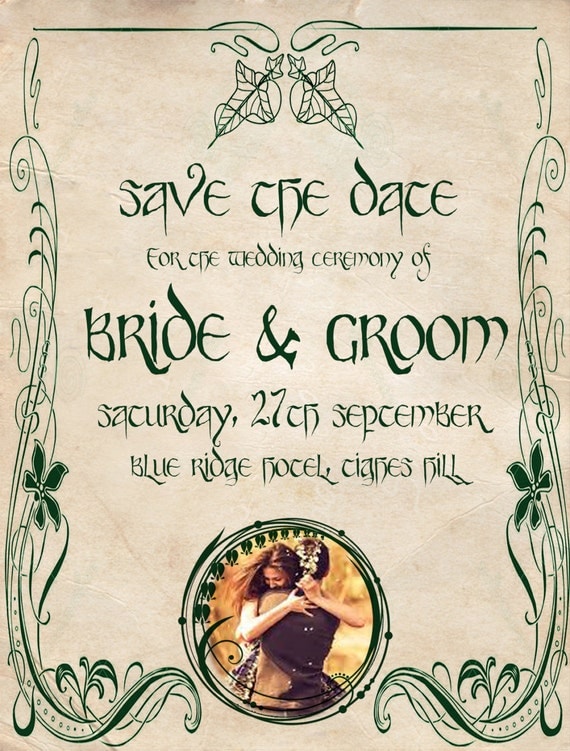 And a wedding invitation to match.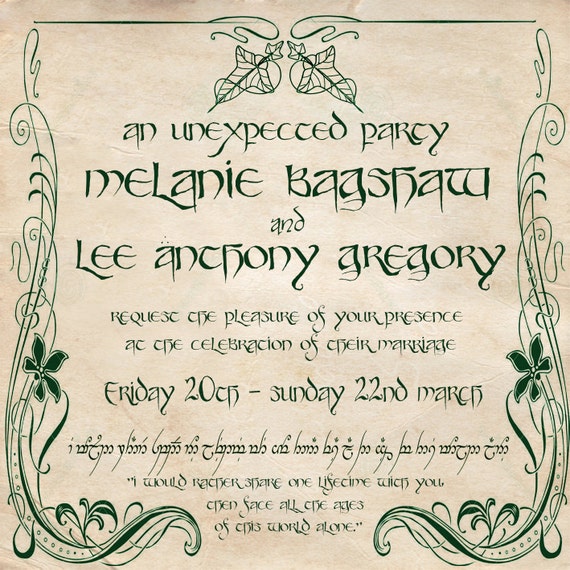 Here's a very pretty and delicate shower/wedding invitation. I love the Evenstar design on the top!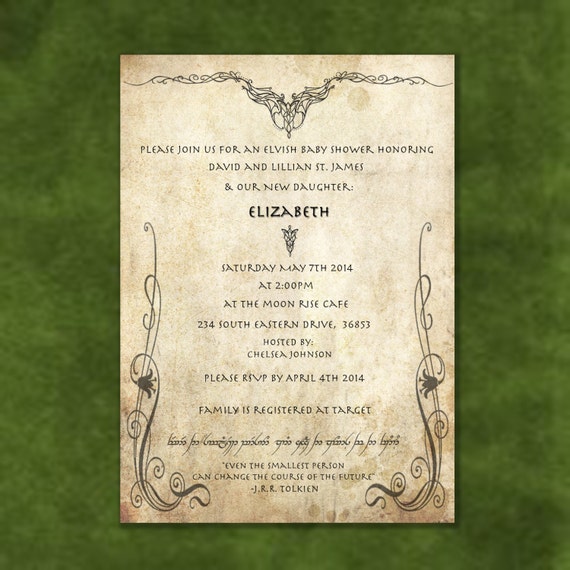 This card could be used as an RSVP card, or even a little card with the wedding location address on it.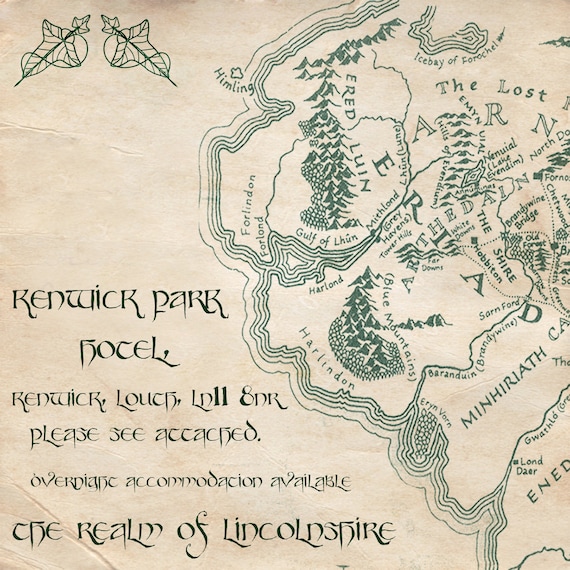 Now, to completely tie everything together, you'll of course need these amazing envelopes to mail everything, right? Right.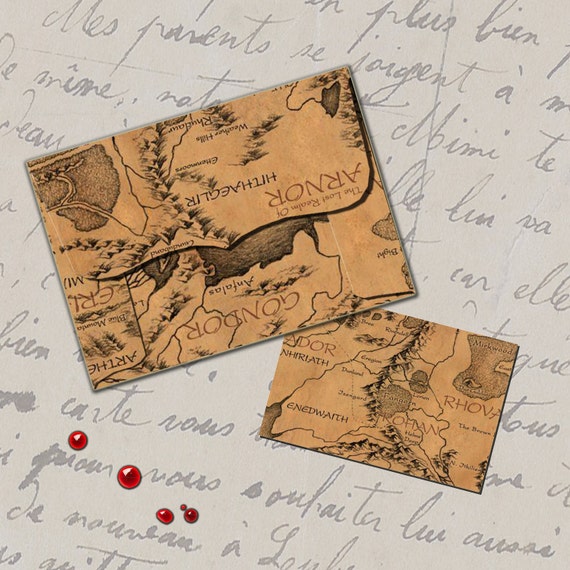 ---
While this is technically a bachelorette invitation by HottcoccoDesgins, it really fits with the theme, don't you think? Yes.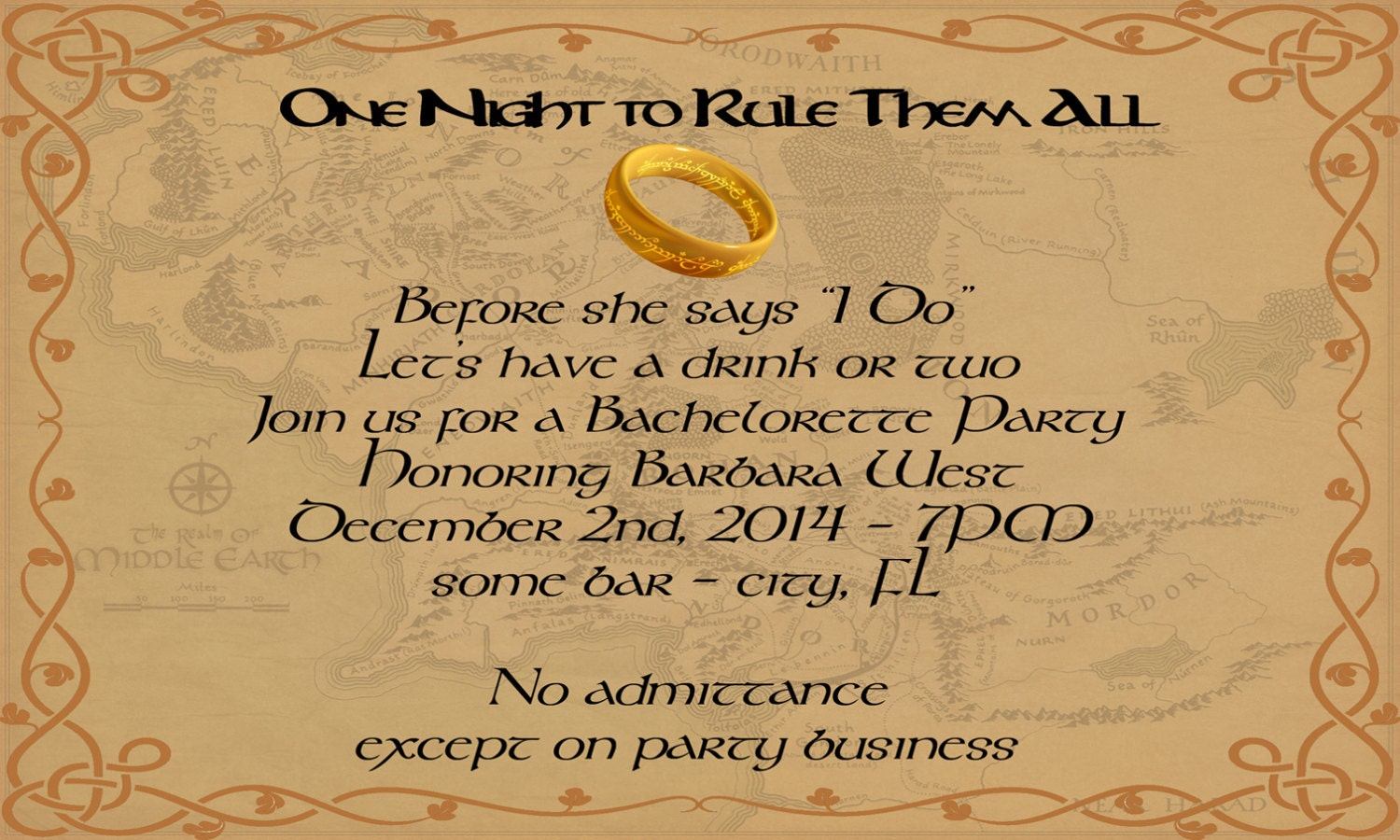 I believe it can also be ordered with an Elvish looking (but still very much in readable English) font!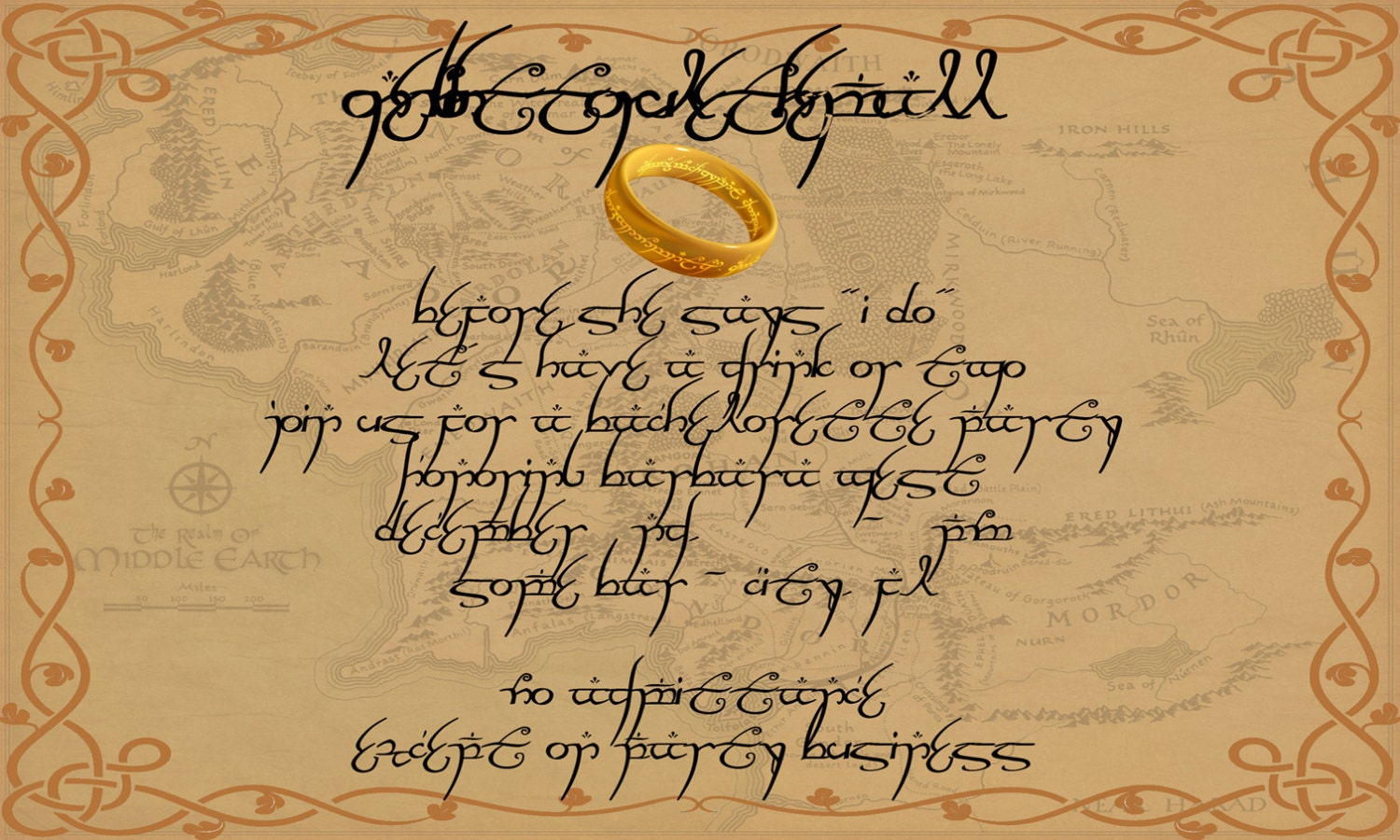 This font is actually called Elvish Ring, and was part of our post about Lord of the Rings fonts.
---
Here's another complete wedding suite set by TiarrArts.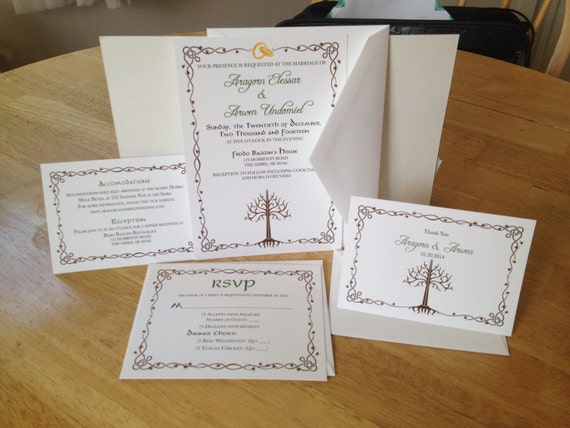 You really get everything with this set, including an invitation card, a RSVP card, an enclosure card, a Thank You card, matching white envelopes, and of course, your custom text.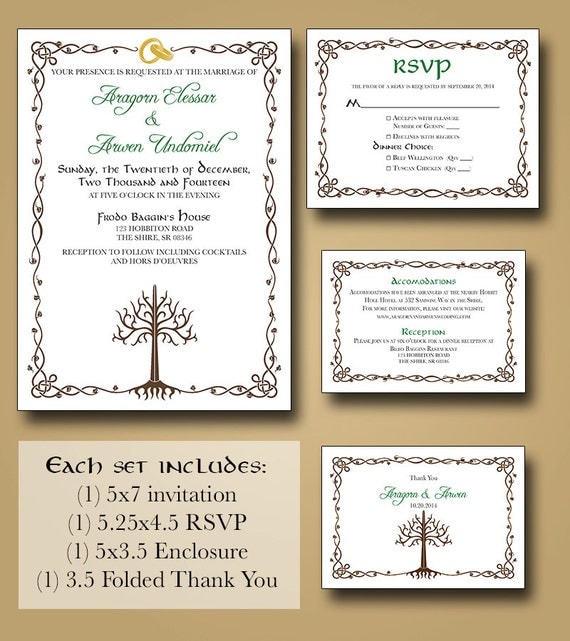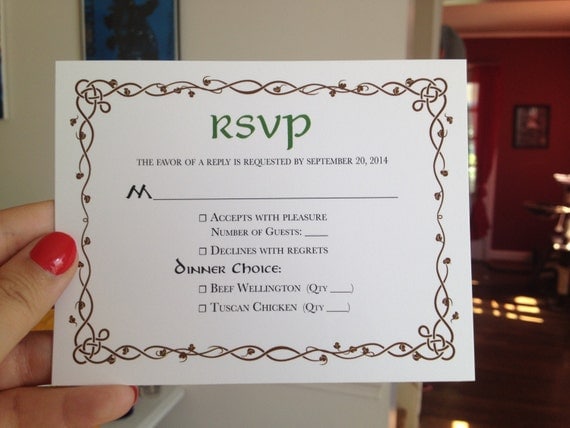 Very pretty!
---
OK, for our second to last design, which we've already featured (but none the less is well deserving of a place on this list!) is by Etsy artist AkwardAffections.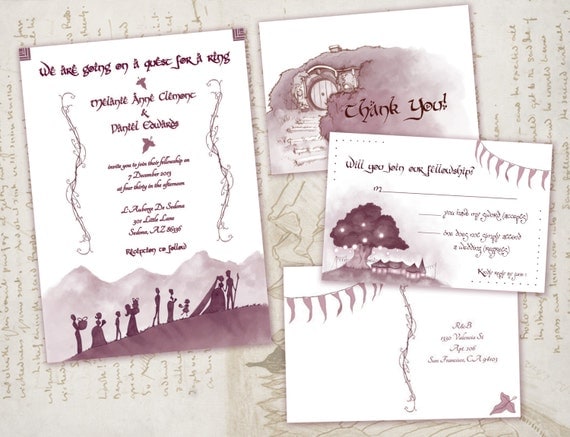 These are so different from what we've seen before, because they are all custom designs. The iconic Fellowship trek is replaced with a wedding party, and different scenes from the Shire are on the other cards. I really like it.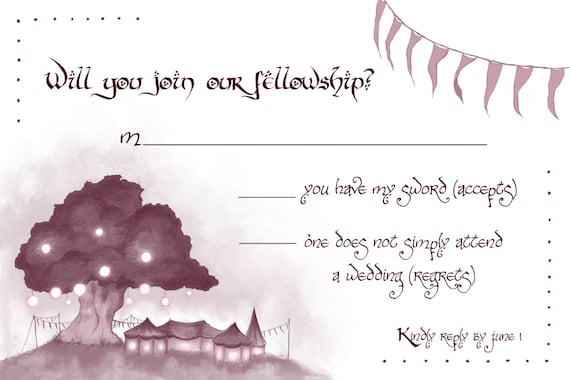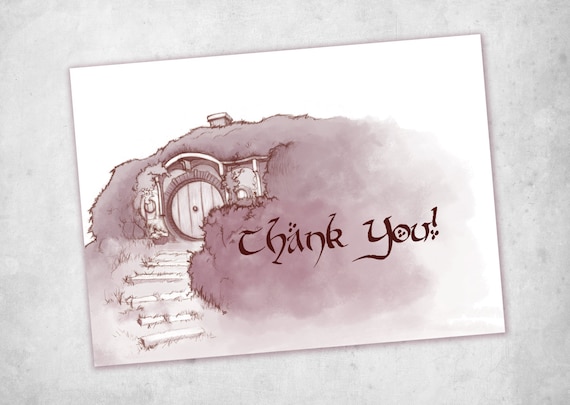 ---
OK, good job guys. You've stuck with me this far, and here's our last Lord of the Rings wedding invitation, and my personal favorite thing ever. This was also in one of our previous posts, but since it is just so awesome, here it is again.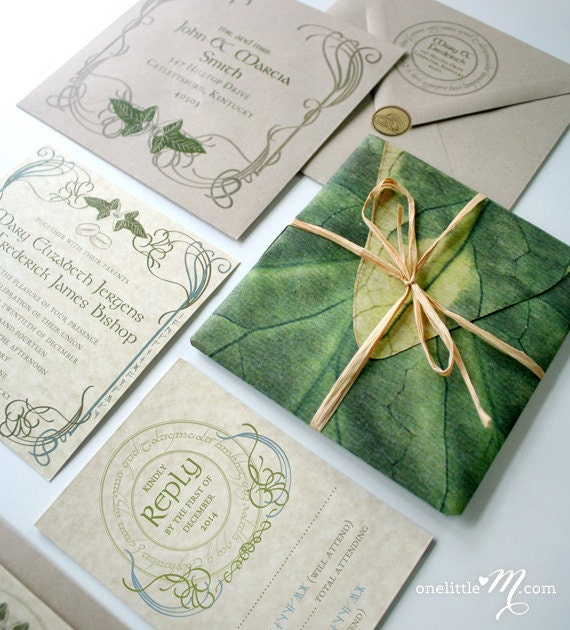 Loooooove.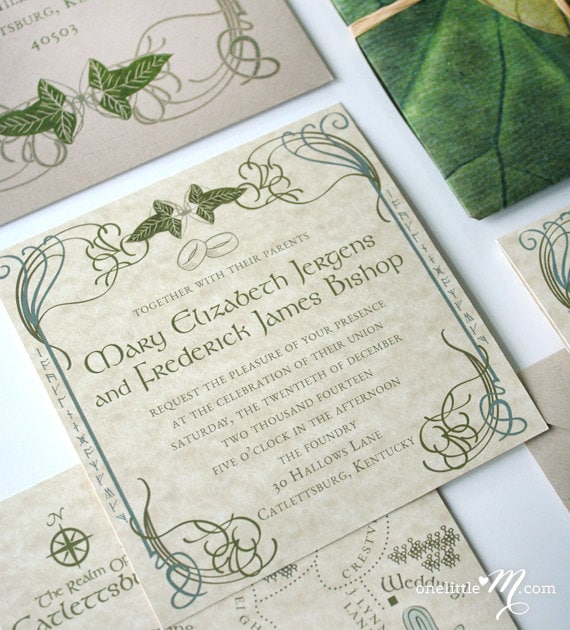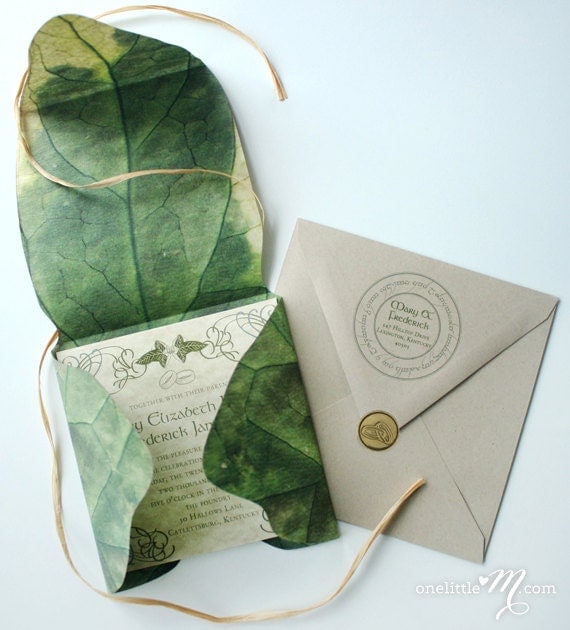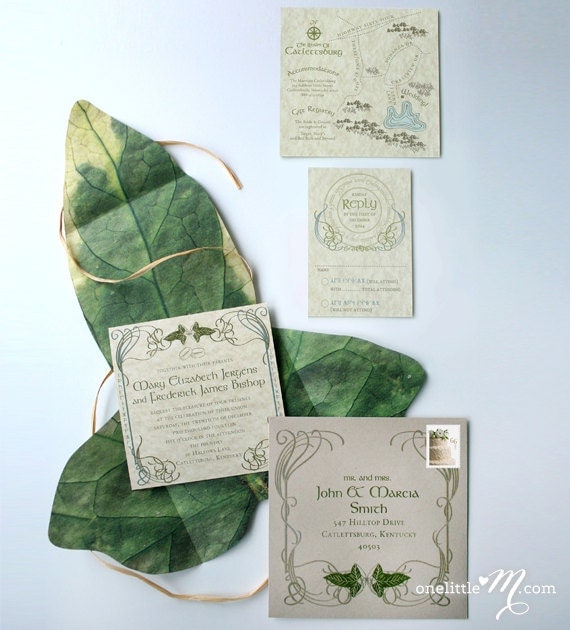 This is by Etsy seller OneLittleM, and they pretty much rule at geeky wedding invitations. This listing is actually for a sample, which includes everything you see here, and I really need it. So, I'm buying it. For $12, I can have this beautiful thing! Just note, a sample order cannot be customized, but I'm totally OK with that.
---
OK guys, you did it. You made it through this hugely long post about paper. Take these as you see fit, as perhaps the perfect invitations to order right now, or maybe just use them as inspirations to create your own unique one. Either way, make your invitations reflect not only your excitement and passion about your favorite book series, but about the love your share with your new spouse, your big day, and your life together as one.
Stay tuned for our next installment, the The Complete Compendium of Lord of the Rings Wedding Invitations: Part Two! We're big on creative names here. Thanks for reading!