Round 2: FIGHT
So, last time on BreeCraft, we took a look at a ton of beautiful Lord of the Rings wedding invitations and other paper goods. That was fun, wasn't it? Good, because we're doing it again today!
So, first up is this awesome invitation suite, which looks like it includes an invitation, table numbers, a menu card, and some sort of ticket that may be a save the date? Everything's in Spanish and I speak Spanish way better than I can read it. However, based on my limited vocabulary, I believe it says something like "Tacos, chihuahua, queso blanco, no beuno. Fajitas!"
All of my Spanish experience comes from Tex-Mex menus and growing up in south Texas, so…
but still, no matter what language it is in, it's pretty sweet!
While it may be a little hard to see, there's the Tree of Gondor on the bottom of the menu card and on the top of the table number one. Lord of the Rings fonts are used throughout the invitation too, and I really like how delicate everything looks, while still having iconic LOTR themes. Tacos!
---
Sticking with our Spanish theme, here's what appears to be table number cards, but they use place names instead.
I love the textures used here, and you can faintly see Elvish script on the top of each card. I also really like the celtic designs on the corners.
These are also from a Spanish website, but they don't look too hard to make yourself!
---
OK, so say you did use the place names as your table numbers, which I think is a great idea. Here's a cool table finder from a UK company, and I'm a fan.
---
OK, up next is technically a birthday card, but I'm betting you could convince the maker to change the wording a tad!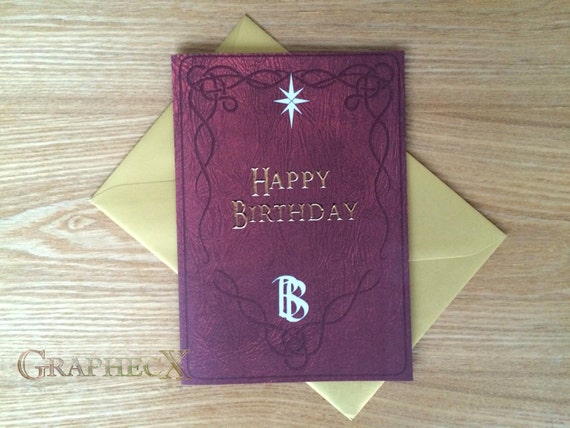 Made by Etsy seller Graphecx, this birthday card has an amazing leather texture. The seller also states that the initials 'BB' can be changed to any (like, say, yours and your new spouse's!) and that while this is a birthday card, "this can of course become any event of your choice". Score.
---
Here's another Etsy seller named noteworthyinkdesigns and includes the infamous Smaug.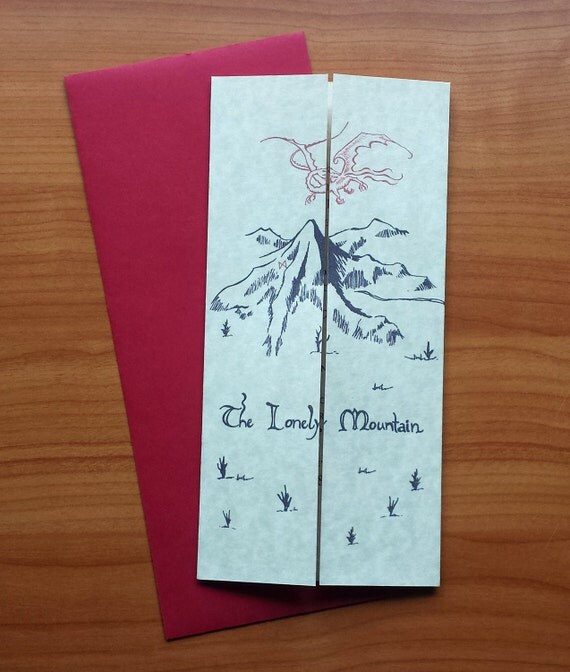 This one is interesting as it folds out, and does not have a traditional wedding invitation shape.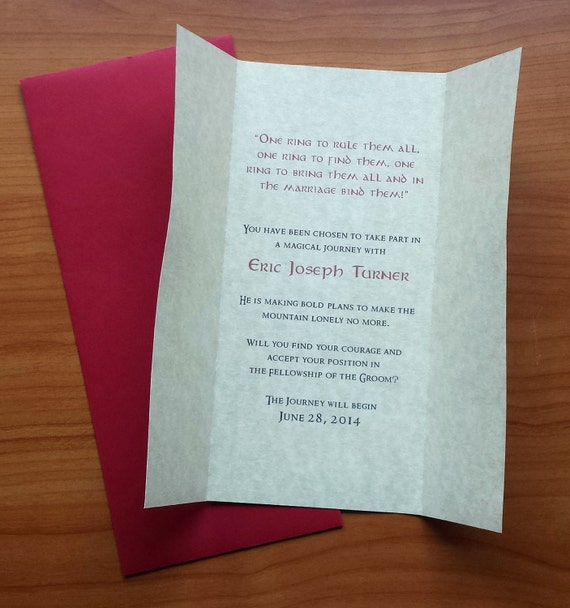 As always, the text is totally customizable to your standards, and I think this would make for a very unique invite or even a wedding program!
---
Ok, so this next Etsy seller has some really great LOTR stuff. ChameleonWeddings makes amazing geek themed invited and other wedding goods, including Game of Thrones and Harry Potter. My fiance is a huge HP fan, akin to my love for LOTR, so I may be ordering some of ChameleonWeddings Harry Potter goods too. But, look at their Lord of the Rings invitations.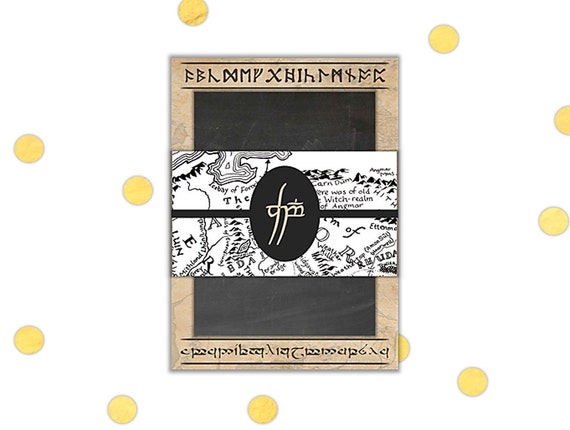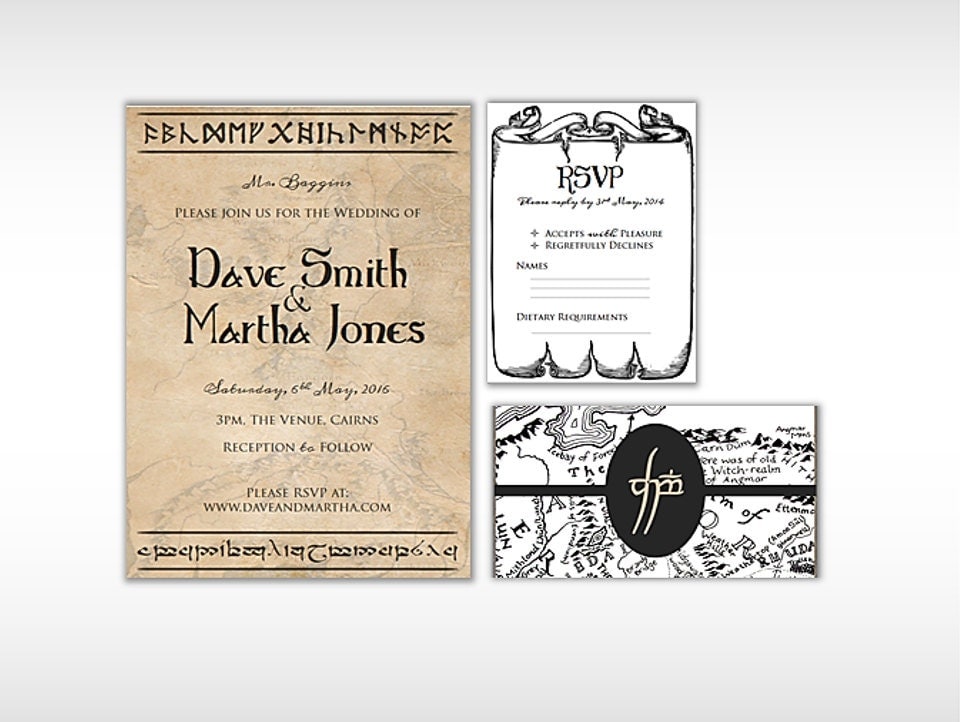 And, to complete your theme, you'll need these programs too!
I'm a fan of the subtle map design on them, and the Elvish along the borders.
Now, what I really love is their guest book idea. Look!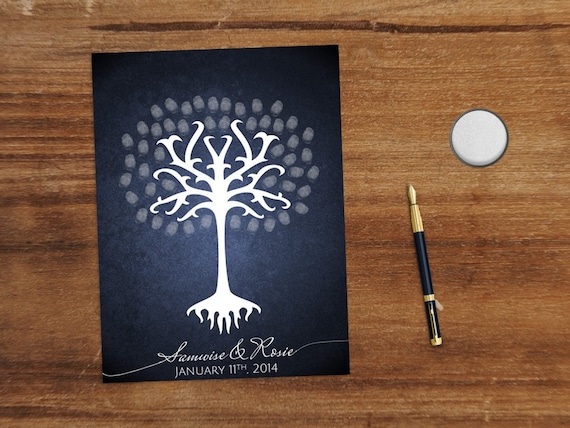 I personally think it's genius, and I need it.
---
OK, now we're going to look at some of the most beautiful and original LOTR invitations I've ever seen. We posted about them in one of our very first posts, but this time, I've managed to find the Deviant Art creator, Menta Designs!
This amazing invitation was designed by Menta Designs and the illustration was made by Deviant Art member Lelia (who has some great concept art for a few characters from The Silmarilion)
Here the invitation is opened.
And the back!
Soooo pretty. But wait till you see the others Menta Designs has made!
Love! Everything, from the wax seal to the delicate vine work on the invitation, and even the tiny Evenstar on the top center!
Here's one that's very similar, but in a different color scheme.
Yay, the Gates of Moria! Loooove love love love love. Love.
OK, but now, look at thiiiiiis ooooone.
What's so special about that, you ask? Sure, it's pretty, but…what's going on?
I'll tell you! That dude (yes, it's a dude) is Beren. But who's he creepin' on?
Luthien, DUH! It's a Beren and Luthien invitation. What the freaking heck says love like a Beren and Luthien wedding invitation? Nothing. Nothing else says love like a Beren and Luthien wedding invitation. Stop trying, this is it. Pure awesomeness.
---
Alright, so you've got your dream invitations, right? You've got your envelopes, the stamps, and they're all addressed and ready to go, yeah?
NO.
You need a wax seal! Yes. Yes you do. Don't say no, you need one.
THIS one!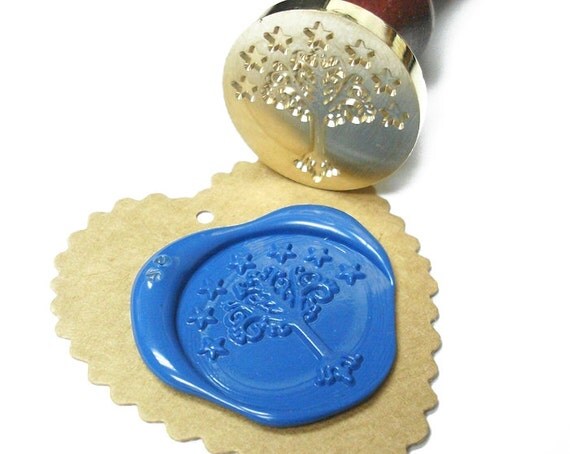 Tadaa!! Perfecto patronum. Wrong fandom, sorry. But still, isn't it cool? This does not have to be in blue, and the Etsy store, MisterStamp, offers many colors of wax, which can be ordered in a candle form with a wick for burning and dripping on paper, or in a stick form that can be used in a hot glue gun.
I think you really need it, yeah?
---
OK guys, that about wraps up our 2 part post on Lord of the Rings wedding invitations. I'm sure there are many more out there we missed, so don't hesitate to contact us or post in the comments about your favorite! Thanks for reading!