Hey guys! So, today we're going to talk about an amazing company and seamstress who makes THE most beautiful and unique gowns I've ever seen. I am of course talking about Firefly Path!
The owner and designer, JoEllen, resides in Los Angelas, California and has an extensive background in sewing. She has worked under fashion designer Vannessa Riley, led the Costume Department at the University of North Texas (woo Texas!), and has been a Wardrobe Master for many Hollywood productions (IMDB). She also does some make-up work for movies and TV shows, as well as travels all over the world to appear at conventions and talk about her amazing creations. She has made hundreds of costumes and props for customers over the years, and her work is AH-MAZ-ING. Guys. You don't even know.
So, as far as I can tell, Firefly Path takes commissions and basically creates amazing cosplay outfits for customers ranging from Disney Princesses to video game characters, and everything in between. However, what is also cool about this company is that they will totally create a 100% original outfit for you, anything you want. Their specialty, I think, is their amazingly detailed ball gowns, but about once or twice a month, I see them post original designs they made for a customer looking for a unique outfit. They also do great new takes on old classics, like revamping the iconic yellow Belle gown, or adding new designs to a Jasmine outfit.
The creator is also super in love with Sailor Moon and The Last Unicorn, so if you're into those, you're gunna freak. Click on these two photos below to go to their Etsy page to buy some of their goods!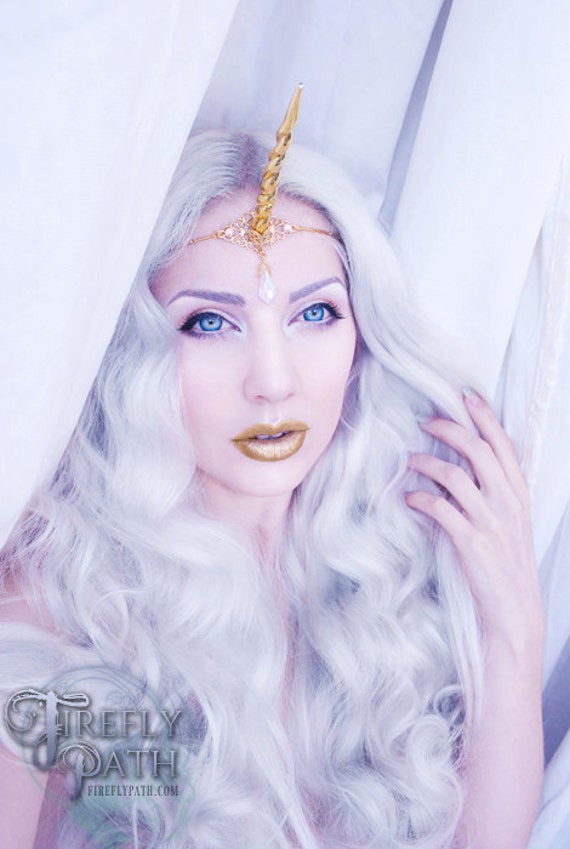 But, what made me fall head-over-hells in love with them, is their stunning fairy gowns. I remember the first time I saw one of their creations, I was like…drooling on my keyboard. Literally, this is what fairies wear. Like, I don't know how they did it, but if you ever wondered what they ACTUALLY wear, this is it.
WHY AM I SHOWING YOU THIS?! Because they also take commissions for wedding gowns!
A few months ago, the SyFy channel aired a show called My Big Fat Geek Wedding, which was like a 3 part show about this couple getting married in California. They wanted to have a Game of Thrones themed wedding, and the show followed the bride and groom around while they tried to plan it. I was calmly watching the show (which is a lie, it's a show about a geek wedding, so I was squeeing all over the place) and the bride went to go try on wedding gowns. She goes to this place and this woman walks out and I'm like "…I've seen that woman before" and they said "This is JoEllen from Firefly Path" and I jumped off the couch and attacked my fiance, screaming "oh my god this is the best show ever!".
So, the bride eventually chose an of course beautiful gown, but what killed me was the cloak she was wearing. This right here, readers, is what made me want to wear a cloak too. THIS. I'm going to die.
The lace! The edges! The crystals! The everything. I. Want. It. Here's the bride, Mandie, who wore it!
(And here are her 3 bridesmaids, just for awesome refrences. We'll do a whole post on this show and wedding, because it was the bomb, but that's for a later time)
Ok, back to the topic at hand. Firefly Path does wedding gowns, yes. Right! They do, and that's awesome. Here are some actual dresses they have made for actual brides, who are actually awesome.
So, now you need to contact them by going here, and get a custom dress made. No, shhh, just do it. Fly, you fools!
Now, just because there's so much awesomness to show, here are a few other photos of their amazing work. YOU'RE WELCOME.
OK, I saved my very favorite for last. This is the prettiest thing I've ever seen. I have no words.
Be sure to 'like' Firefly Path on Facebook for pretty frequent updates and posts about their beautiful creations. It's a little jarring to be scrolling through your news feed and then BAM, here's the most amazing dress you've ever seen that they just posted, and you're like "uh, didn't you just post an equally amazing dress last week? HOW ARE YOU THIS AWESOME?!". It's like a little square of magic and wonder on your Facebook.
Here's their Deviant Art page. Their main website and blog, with tons more photos of their stuff, and their very informative crafty blog!
Well, there you have it, an amazing company that makes amazing things. Have you ever seen dresses more beautiful? Nope! Thanks for reading guys!