Hey! So, say you're engaged (or not) and you're like "man, I'm going to have the coolest wedding ever, and it's going to be Lord of the Rings themed!" as you should always be saying, but you're not 100% sure where to begin. And, how much 'theme' are you going to have? What's your vision? Does an elven wedding dress sound like a great idea, but maybe you've always dreamed of a more contemporary one? Or maybe your friends and family are just not awesome enough to really get your vision, and you're worried you may freak them out more than usual? Has your partner put up with one too many LOTR marathons and will likely snap if you even suggest that they wear armor on the big day?
Grab a paddle partner, because we're in the same boat! I was in early high school when the LOTR movies were released, and they pretty much defined my childhood/life. They're so ingrained in me that I couldn't imagine my big day without some LOTR touches,  just as some people can't imagine a wedding without flowers, or whatever. If I had my way, and if there was absolutely no chance of discontent from ANYONE concerned in the wedding, I'd book Sean Parker's wedding planner in a heartbeat and copy their Lord of the Rings wedding to the letter (minus the backlash they received for possibly damaging a national forest, and my budget might be a smidgen smaller).
But, that's not my life. For my 18th birthday, I begged my parents for my first corset from Damsel in this Dress (A-maz-ing designer guys, seriously) and my dad got all mad because why couldn't I be a normal kid and ask for a new TV?! I'd save up all year long to go to the Texas Renaissance Festival and spend months working on my outfits. That was who I was. Happily, it's still who I am! Only now, I can buy my own corsets, and I frequently do. But, this wedding isn't just mine. It's my fiance's. And, in a way, it's my parent's, and his parent's, and all of our family's as well. I can't tell you how many times I've had to tell people that no, we aren't getting married at the renaissance festival, and no, no one is excepted to dress up for it. It'll probably be pretty tame, albeit awesome, of course. Some people go all out, and some people just have touches here or there. Either is fine. What matters is that at the end of the day, you two are married and happy. That being said, let's look at some awesome LOTR accessories, cakes, dresses, and weddings!
Let's start out small, I don't want to give you an overdose of awesome just yet. As I said, there's no reason you can't have small touches of Middle-Earth throughout your wedding. Here's a Save the Date from Etsy that we Tolkien freaks will instantly recognize and squee over, but honestly, to a normal, sane person, it's just a whimsical card. Kinda cute, weird font, but "just perfect for Julie and Daniel" you're great aunt will say. You, however, will probably never stop jumping with glee over how awesome these are, and your conservative family and friends will be none the wiser.
Now, maybe you're a little braver, and you want your invitations to have a little more Middle-Earth pizazz. Look at this beauty!
GUYS, the colors, the lines, the envelopes, the WAX SEAL *gasps and faints*.
Sadly, it seems the maker's Deviant Art account has been deactivated, but if you're determined to have these, which you should be, I'm betting the maker can be tracked down somehow!
I saved my favorite, and the most 'in yo face' for last! Gaze upon THESE.
I don't even! What the! I can't! Don't even talk to me, invitations, you're far too awesome. Just stop. Not idly do the leaves of Lorien fall (into the mail box, because like hell would I ever be able to even let go of them) but seriously, these are completely epic. Kind of pricy, but so is the cost of awesomness. Available as a DIY set or already made, these invitations by OneLittlem.com are, as the kids say, the shit, and you most definitely need them.
Ok, so you've sent off your Save the Dates and invitations, and now it's time to start with the ceremony ideas! What will your party be wearing? What will YOU be wearing? Do you think your officiant might be willing to dress up as Gandalf? Maybe not? Ok.
So, there are two paths before you now. Do you go full-on Tolkien, or do you slyly add in your own LOTR touches here and there, but to the untrained eye, have a 'normal' wedding? Whatever you choose, just make sure that you, your partner, and those being subjugated to your awesome whims are comfortable with it. Some people may not want to dress up as a wizard, or have a terrible phobia to pointy ears, or are just super, mind numbingly boring. Whatever their reasoning, you and your partner will know what is best for you and your families on your big day.
That being said, some people are gifted with amazing friends who will fully embrace your Lord of the Ringness. Take a look at this wedding, featured on Offbeat Bride! The groomsmen went full-out Hobbit style!
To compliment them, might I suggest these lovely bridesmaids dresses from Custom Made?
Also, if you're even attempting to have a LOTR wedding in any shape or form, let us not let the greatest pun of all escape us. Who better to carry the rings down the aisle more than a…say it with me now, a Ringbearer!
This little guy is actually from the same wedding those Hobbit groomsmen were from, and we can all agree that this couple did it right. He's even got the rings on a chain! *dies* You can bet your ass I'll be shamelessly stealing this idea for my own wedding, tiny vest and all!
However, if you don't want a toddler running around with your wedding rings, you should think about using this box, which is pretty damn perfect.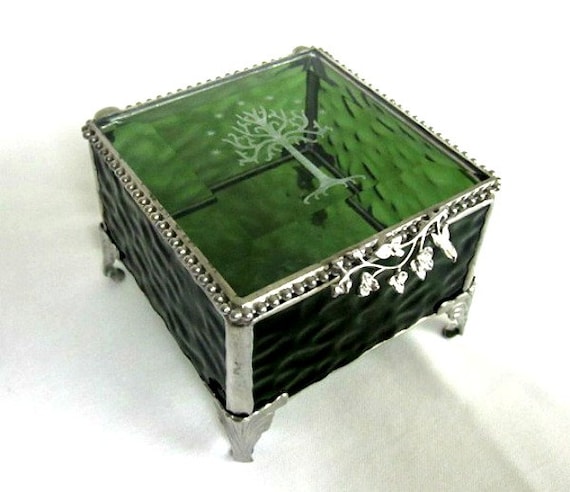 But wait! What will you, as the bride or groom, be wearing? There's always the iconic Arwen in an elven gown and Aragorn in a Gondor uniform pairing, which is an absolute classic.
To various elven inspired gowns for the ladies
Finding a Medieval/Elvish style gown is relatively easy. Thankfully, the internet is full of amazing seamstresses who love making Medieval wedding dresses. But what if you want something a bit more contemporary? That's ok too!
This is singer Alexandra Lenas  getting ready to marry Sean Parker at their multi million dollar Lord of the Rings wedding. Her dress and cloak are by Elli Saab, and it's to die for. I feel like, take away the cloak, and you've got a pretty standard wedding dress, but somehow it also fits seamlessly into their LOTR theme.
I'm kind of in love with this Maggie Sottero dress, maybe the sleeves are a bit weird, but I rather like it.
On this dress by Mori Lee, I think the beading and flower appliques remind me of a modern elvish bride
This flowy A-line gown from David's Bridal would also make a good medieval substitute.
But, don't be afraid to get any dress that you like, because not every single thing has to fit into there LOTR vision! There are also ways to add a touch of elvishness to any dress, regardless of style, such as wearing a cloak instead of a veil, as Alexandra Lenas demonstrated, or wearing a long sleeved lace wedding coat during the ceremony, and removing it for the reception (or not).
Now, for the guys, it's a bit harder, because we all know what a girl traditionally wears on her wedding day. But tradition doesn't hold guys so firmly when it comes to dress and their wedding. They can wear a kilt, a morning suit, a tux, or a suit of armor, if they're awesome. However, for a Lord of the Rings themed groom, there are a lot to choose from, and all of them seem to be pretty dang hot.
You're welcome. Now! There are still even more LOTR groom things! Such as bow ties!
And cufflinks!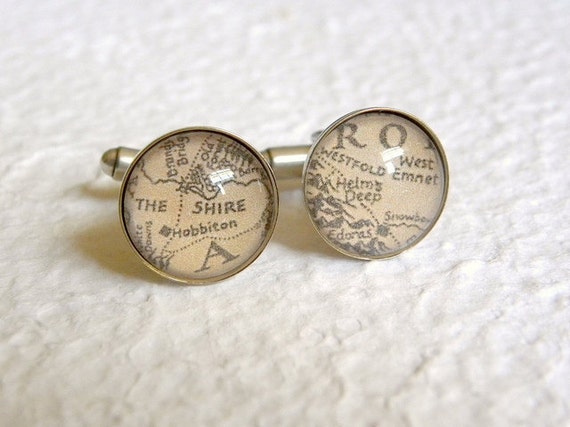 And just about everything else you can think of for your man on Etsy.
So, that about wraps up part 1 of our "Everything you need for your LOTR wedding". Stay tuned for the next installment, featuring cakes, center pieces, gifts, and jewelry! (You can maybe guess where I'll go with the 'jewelry' angle). Thanks for reading guys!